Help us


provide free
Education

Ensure no child gets
left behind

Image © DFID, used under license

Give the gift of


Education

Help us change the world,
one school at a time

Image © Pierre Holtz/UNICEF, used under license

Together


we can make a
difference

Let's bring free
education to all
Who are we?
FacilitAid is a UK registered charity building schools and providing clean drinking water in Africa.
Over the past 8 years, our schools have provided education for 25,000 children in Burundi, Central Africa - and our water projects have brought fresh, potable water to thousands who would otherwise have no access to it.
100% of all donations go directly to our projects.
Our administration costs are covered by separate funding.
Why do we do it?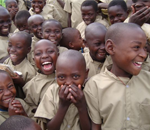 We strongly believe that education saves lives and so we have dedicated our lives to building schools and providing free education. The schools we build are 'brick-and-mortar' permanent buildings and serve as a focus for the local community.
All our materials and labour are sourced from the local community, and we pay fair wages... meaning the whole community benefits from one of our building projects.
Each of the schools we build is government-approved and provides free education.
A typical school will have several hundred children in attendance and is designed to last for decades to come. All our schools provide plumbed toilets; access to clean drinking water for the whole community; and forms a focal point for community activities.