Here you can find out more about our past and present projects!
Simply click on the map pins below to get more information about specific schools, or scroll down for more general information, project reports and photos.

100% of every donation goes straight to the designated project - we don't take a single penny for other expenses.
Each of our schools is built in co-operation with the Burundian Government.
The Government provide the land, approve the building plans and, upon completion, adopt the school officially: providing ongoing funding for
teaching staff, administrative staff and educational materials.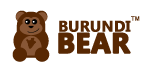 Burundi Bear has played a key part in the fundraising for most of our school-building projects. He can be found hiding somewhere else on our website - can you find him?
Reports